"Sacramento Valley is one of the great valleys of the world, with a vast and fertile soil area. It produces great quantities of precious metals and structural materials. It is blessed with an abundant water supply, and an agriculture much more diversified than is found anywhere else on the face of the earth." – Sacramento Valley land brochure (1911)
The fertile soils of the Sacramento Valley (Valley) allow for the cultivation of a diverse array of crops that contribute to the rich mosaic of land uses in the region. (DWR Land use map) At a broad scale, Valley agriculture is one quarter rice, one quarter row crops, one quarter trees and one quarter irrigated pasture. More specifically, crops grown in the Valley include rice, almonds, walnuts, plums, peaches, tomatoes, wheat, olives, corn, alfalfa, pears, sunflowers, grapes, kiwifruit, and hay. The variable soil types in the Sacramento Valley influence where specific crops are grown. Rice tends to be grown in areas with less permeable clay soils. (Water Use in Rice) Other crops are grown in areas in the Valley with more permeable soils.
Farming is the economic driver in the region. It is the basis of the economy for most of the counties and local communities in the Sacramento Valley. Farming in some areas of the Valley predates California statehood, and many of the lands have been farmed by the same family for multiple generations. In total, there are over 11,000 small family farms in the Sacramento Valley that contribute almost $4.5 billion to the state's economy (California Agricultural Statistics Review 2013 – 2014). These same farms also provide almost 53,000 valuable jobs.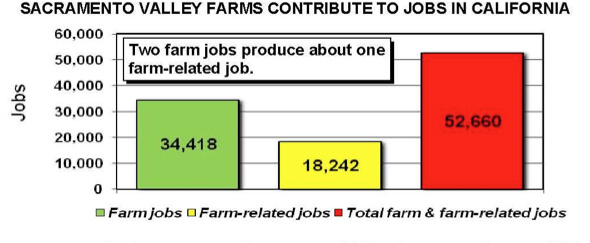 Sacramento Valley farmers are continually implementing new practices and infrastructure to increase efficient water management at the field, district and regional level. The challenge in implementing new water management and farming practices is to ensure that increasing efficiency at the local level will not jeopardize the benefits and values the water use provides to the environment or to other downstream water users. Put, differently, efficient water management decisions must be made with a clear understanding of the impact those decisions have on regional sustainability. From a regional perspective, agricultural water use in the Sacramento Valley is a relatively modest portion of overall water use in the Valley as shown on the left side of the accompanying chart.
Sacramento Valley farming is generally very light on the land. Over the past several decades, landowners in the Sacramento Valley have employed farming practices that enhance the environmental values provided by the land. These practices include the establishment of buffer strips between fields and waterways, maintaining ditches and canals to provide habitat for listed species as well as migratory bird species, and inundation of harvested rice fields to provide habitat for migratory waterfowl and shorebirds as well as avoiding the practice of burning rice straw.