The driest years on record since 1895 were recorded between 2011 and 2014 causing a statewide drought of emergency. This was a driving force for the Sustainable Groundwater Management Act (SGMA) which will build upon the coordinated efforts to manage groundwater sustainably in Glenn County. The drought was followed by a historic wet year. The 2016-17 season, surface water was at its highest levels in some areas since 1997. Between October 1 and April 12, 49 atmospheric rivers made landfall on the West Coast.
The following is based on comprehensive data from 126 wells monitored in Glenn County in the shallow, intermediate and deeps zones with comparisons from previous years of groundwater elevation data.
In Glenn County and in many other areas of the state when comparing spring 2016 to 2017 groundwater levels there are recovering groundwater elevations. In Glenn County according to the Department of Water Resources (DWR) Groundwater Information Center, Northern Region Groundwater Level Evaluation data, and the Shallow-Intermediate Spring Groundwater Elevation Change maps in the shallow zone the maximum change is +18.3 ft. with an average change of +6.2 ft. with an average well depth of 116 ft. from monitoring 53 wells. The maximum change for the intermediate zone is +23.1 ft. with an average change of +6.7 ft. with an average well depth of 419 ft. from monitoring 47 wells.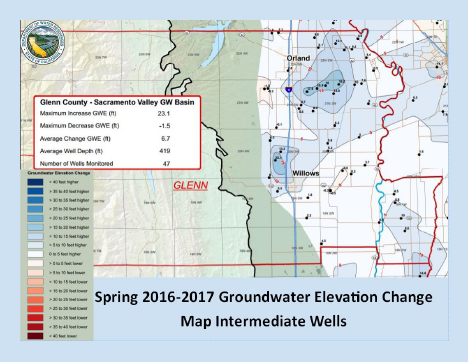 2011 is considered to be pre-drought conditions by DWR and can be used as a baseline year when comparing historical to current groundwater elevation conditions. When comparing spring 2017 to spring 2011 levels in deep wells, the maximum change is -39.6 ft. with an average change of -8 ft. with an average well depth of 976 ft. from monitoring 26 wells.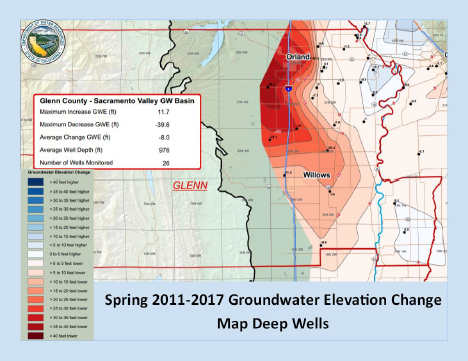 In the Sacramento Valley Basin, in general there is recovery in the comparison of 2016-17 groundwater levels. However when using comparisons from previous years, groundwater levels have not recovered to pre-drought conditions according to the Spring 2017 Groundwater Level Data Summary and the Groundwater Elevation Change maps provided by DWR. In general the Sacramento Valley Basin is still recovering to pre-drought conditions in all zones. The deep aquifer zone has the furthest to recover with approximately 10 ft. in Glenn County; however, there are some areas of recovery in the deep zone in the Sacramento Valley Basin at large.
In summary for the Sacramento Valley Basin using the Sacramento Valley Monitoring Grid groundwater elevations recorded by Department of Water Resources in spring of 2017:
Shallow-Intermediate Zones
Average groundwater levels in the intermediate aquifer zones continue to increase (+4.3 ft. in the last year) but still down by 3.5 feet since before the drought and down by 7.2 feet from 2004.
Deep Aquifer Zones
Average groundwater level change in the deep aquifer zones were up about 6 feet this year compared to -1.1 last year indicating that there is a lag time of about a year for seeing a notable change in the deep zone. Groundwater levels are still down by 5.8 feet since before the drought and down by 10.7 feet from 2004.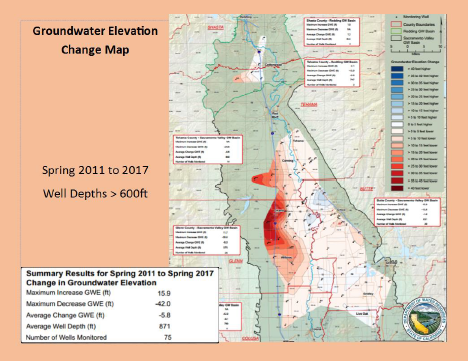 Glenn County has dedicated staff and resources for SGMA development and implementation in order to achieve sustainability and comply with SGMA. There are three subbasins required to be managed under SGMA in Glenn County, each of which has taken a slightly different approach to SGMA development and implementation. Glenn County partners with other eligible local agencies in each subbasin to prepare for and implement SGMA. Glenn County is also part of the Northern Sacramento Valley Integrated Regional Water Management (NSV IRWM) group which coordinates on regional water issues including SGMA. Our commitment throughout the region is to effectively manage our region's water resources and balance community interests to develop the Groundwater Sustainability Plans through a coordinated effort. This commitment to groundwater management will facilitate reliable water for Glenn County and our region.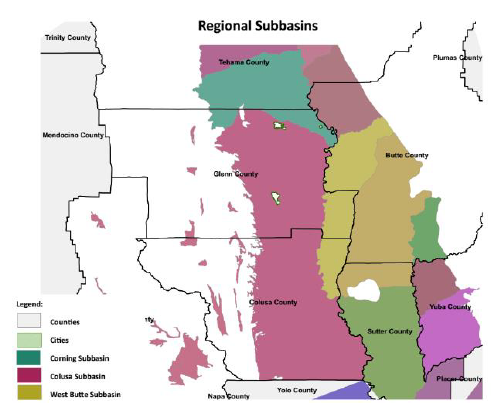 Blog Citation:
Northern Region Groundwater Level Evaluation
Spring 2017 Groundwater Level Data Summary-Final Draft
Glenn County Resources
Glenn County SGMA updates & Meeting Schedule
Glenn County SGMA Comments online and subscribe to receive Glenn County SGMA updates
Send Glenn County SGMA Comments by email – glennsgma@countyofglenn.net
Glenn County SGMA updates